Congratulations on your purchase of the APU 2200JX Power Bank from US Digital Media!
To ensure a long service life and optimum functionality of the product, we recommend that you read these instructions carefully.
Package Contents
1 Power Bank
1 USB charging cable
1 user manual
Specifications
Capacity: 2200mAh
Input: 5.0v / 1A
Output: 5.0v / 1A
Charge Time: about 4 hours
Charge and Discharge: ≥500 times
Compatible with smartphones, iPhones, iPads, iPods, MP3 players, and other electronic devices.
Instructions
To charge the power bank:
It is recommended that the power bank be fully charged before first use. When power bank is off, insert the micro USB plug into the appropriate port on the power bank. Insert the standard USB plug into anyUSB port with a power source. During charging, the four indicators will light one by one. When all 4 lights are lit, charging is complete. Disconnect the charging cable from the power bank and the power source.
To charge devices from the power bank:
Press the Power button. The 4 capacity indicators will light up one by one 3 times and stay to show how much capacity remains.
4 Indicators: 75% to 100%
3 Indicators: 50% to 75%
2 Indicators: 25% to 50%
1 Indicator: up to 25%
The front ring will also light up. Connect your device to the USB port of the power bank. If the power bank is not connected within 15 seconds, it will shut off automatically. When the last indicator begins to blink, it means the power bank's capacity is lower than 25%, and the power bank will need to be recharged.
Product Illustration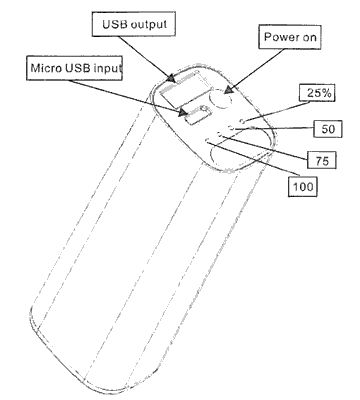 Safety Information
Warning: failure to follow these safety instructions could result in fire, electric shock, injury, damage, or others. Do not drop, disassemble, or modify this product. Do not expose this product to fire or excessive heat. Do not expose this product to water or excessive humidity. Only use the USB input cable provided with the product to recharge the battery.