WELCOME
This user manual describes the features and operation of the MX300 Juke portable wireless Bluetooth speaker. Please read these instructions carefully before use.
I. Product Overview
II. Basic Operation
III. Product Information
IV. Troubleshooting
V. Warranty Information
---
I. PRODUCT OVERVIEW

MX300 FEATURES
Supports wireless audio playback from Bluetooth-enabled devices
Answer phone calls
3.5mm Stereo AUX Input
Operating range: 10 meters (30 feet)
SAFETY TIPS
Avoid using the speaker near sources of extreme heat including heaters, radiators, stoves, and any open flame.
Do not expose the speaker to rain or wet conditions.
Do not disassemble, repair, or modify the speaker by yourself.
This product contains a Lithium battery! Please discard or recycle according to local laws.
To avoid hearing damage, avoid listening to music at high volumes.
Ensure the power is turned off when the speaker is not in use.
Keep the speakers charged in order to avoid range issues and signal disconnects.
Use included cable to charge the speaker (approved QuickVolt charger is recommended)
---
II. BASIC OPERATION
Press and hold the round button for 2 seconds to power the speaker on or off.
Single press the button to pause music playback. Press again to resume playback.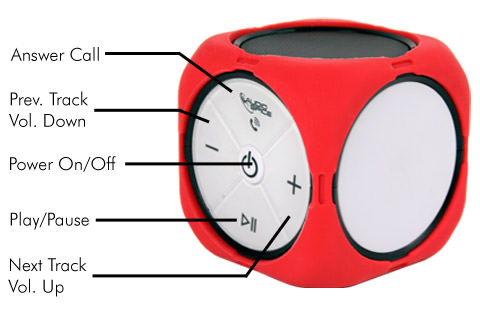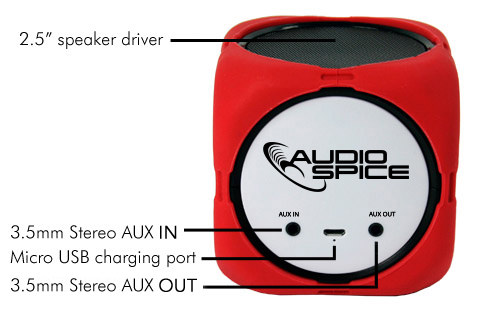 CHARGING
Please charge the speaker before use. You can use the speaker while it is plugged in and charging. The light will turn RED to indicate charging. When charging is complete, the light will turn off.

CONNECTING VIA BLUETOOTH
Turn on the speaker. The flashing blue light indicates when the speaker is ready to be paired to a device.
Turn on Bluetooth on your device and search for the speaker.
Connect to the speaker. If needed, use password "0000"
The speaker is now paired and ready to stream music! The speaker will automatically reconnect to this device in the future.
ADJUST VOLUME
Use the volume control on your smartphone/tablet to adjust playback volume.
SKIP TRACK
Press the ( + ) button once to skip to the next track. Press the ( - ) button to skip to the previous track.
---

III. PRODUCT INFORMATION
COMPATIBILITY
Works with mobile devices including iPhone and Android tablets, smartphones, and more.
SPECIFICATIONS
Range: approximately 10 meters
USB Charging Voltage: DC 5.0v
Battery: Lithium Polymer
Output power: 2W
Frequency Response: 100Hz-20Khz
Sensitivity: 80dB±2dB
Signal-to-noise ratio: 80dB

Driver: 66mm
Dimensions: 84 x 84 x 84 mm
Weight: 365g
---

IV. TROUBLESHOOTING
Follow these steps to resolve common problems with your speaker.
Unable to pair a device
Check that the speaker is in pairing mode (flashing blue light). If not, restart the speaker.
Too many other Bluetooth devices nearby are causing interference.
Battery is low; please recharge.
Sound is distorted or low.
Adjust volume level of the speaker.
The battery is low; please recharge.
Music playback is not smooth.
Move the speaker closer to the device.
Battery is low; please recharge.
Not working, cannot turn on.
Battery is low and needs charging.
Restart the speaker.
---
V. WARRANTY INFORMATION
Please visit the US Digital Media website for warranty information.