WELCOME
Thank you for using the VR-100 Virtual Reality (VR) Headset. We hope you enjoy them!
I. Product Overview
II. Basic Operation
III. Product Information
IV. Troubleshooting
Download Quick Start Guide (PDF)
---
I. PRODUCT OVERVIEW

FEATURES
Adjustable Straps
Easy Phone Loading
Soft Cushion
Adjustable PD (Pupil Distance)
Adjustable Focus
DISCLAIMERS & WARNINGS
Additional Bluetooth® remote not included
Not for use longer that 30 minutes
Not for children under 12, minors should have adult supervision
Apps and/or games used may have side effects, caution is advised
Be aware of your surroundings while using, do not walk or move to avoid injury to yourself or others
---
II. BASIC OPERATION
VR headsets uses a smartphone in split screen mode to produce an image for the left and right eye creating a virtual 3D experience. Use this device with your mobile device and enjoy multimedia content and Apps.
Protectors are installed on the VR Lenses - remove these protector sheets before you use the VR Headset so you can see clearly. (headset cushion side)
Straps on the headset can be adjusted with Velcro ends for a secure but comfortable fit.
Extra pads can be used in the phone placement area
Cloth wipe is used for gently cleaning lenses
Front of VR Headset hinges open from the top for device insertion
Smartphone is inserted into a centered position in the spring adjustment bracket, with screen facing the inside of the headset.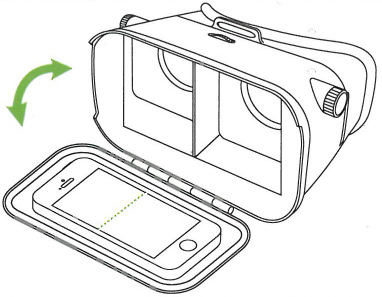 The PD wheel on top of the headset is used to adjust the width of the lenses to your eyes

Wheels on sides of the headset are for focal adjustment, adjusts the distance between the smartphone device and the headset lenses.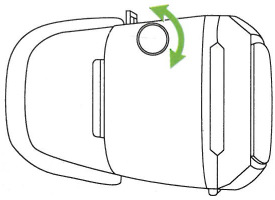 ---

III. PRODUCT INFORMATION
Supports phones with 3.5" to 6" screen size
Inter Pupillary distance: 58 – 68mm
Adjustable pupil and object distance
Up to 5mm of myopic compensation
---

IV. TROUBLESHOOTING
No volume- check the mobile device volume setting.
Can't see screen- make sure the screen is facing the lenses, make sure screen is active.
Uncomfortable while using- Check strap adjustments, make sure device is centered in bracket.
Uncomfortable while using- Check strap adjustments, make sure device is centered in bracket.